Half round or 'd' section rings of silver and 9 carat red gold have been soldered together for this discrete, but different ring.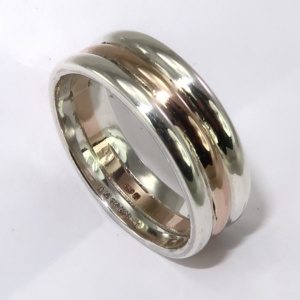 Apart from the soldering challenge, the exciting aspect of this piece for me is that, in over 40 years of sending work to be assayed, this is my first piece that is marked as 'mixed metal'.  I've worked silver and gold before, but this is the first piece that qualified as mixed metal, because the two metals are discrete enough to have different hallmarks.  If the metals are not sufficiently clear, then the whole work is marked at the lower standard, which in this case would have been sterling silver.
Here is an expanded and rotated image of the marks.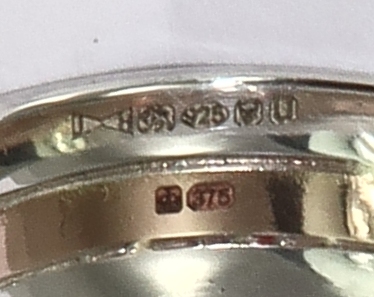 Because my work is assayed at London, it has the traditional silver and gold marks as well as the modern fineness mark applied as standard.  The marks were applied by laser.
Top ring
My sponsors mark, traditional sterling silver, fineness mark for sterling silver, London Assay Office and the 2019 date letter.
Middle ring
Traditional gold mark and modern 9 carat fineness mark.
Assay and marking does not distinguish the colour of the gold.