This page is intended to explain a little about the grades or purities of silver used in silversmithing.  For detail about the metal and its general uses, there are many sources on the internet including Wikipedia.
There are three grades of silver generally available in the UK.  They are identified by their parts per thousand of silver (per mille)
fine is as near to pure silver as you can get and is at least 999 parts per thousand
britannia is at least 958 parts per thousand
sterling is at least 925 parts per thousand
There is a fourth hallmarking grade of at least 800 parts per thousand, but I have never seen any metal of this grade on offer in the UK. There is more about hallmarking on this page.
Fine silver
Fine silver is very soft and easy to work.  However, it bends and scratches easily and so tends to be used for special reasons, e.g. a ring bezel or as the base for the gilding technique keum boo. Pure silver doesn't suffer from firescale (see later) but it will tarnish. The availability of different sections is limited.
Britannia silver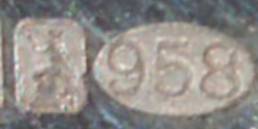 Britannia silver is easier to work and doesn't suffer so badly from firescale (see below).  It will tarnish.  The availability of different sections is limited.
Sterling silver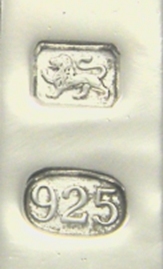 Sterling is the silversmith's workhorse material.  It is harder so doesn't wear in use.  It is the cheapest of the alloys above as it has more (cheaper) copper, which is the main alloying element, and it is available in many different forms.   Copper however creates one big problem – firescale.  To join silver it must be heated red-hot and the metal tends to oxidise.  Copper oxide is black and forms a very thin (microns) layer on the surface of the item.  This layer dulls the beautiful depth of colour that fine silver has.  The firescale has to be painstakingly abraded away to get a good result.  With or without firescale, the silver will tarnish.  It just looks worse where the firescale is, which is why some commercial sterling silver is silver plated to hide the firescale or rhodium plated to stop it tarnishing.  The plated layer will wear off in time.
In recent years, other alloys have been developed that are more tarnish and firescale resistant.  They generally contain some germanium which forms a protective layer and are usually contain a little more silver – perhaps 935 parts per thousand, so they are still hallmarked as sterling.  These alloys are produced by several manufacturers and have trademarked names such as argentium, reflections or brilliante.  Apart from being slightly more expensive and available in fewer sections, they perform differently, particularly at high temperatures.  I have used these alloys on occasions, but am more comfortable with standard sterling silver.
'Mixed metal'
For a piece to qualify for two fineness marks,  the two metals must be discrete enough to have different hallmarks.  If the metals are not sufficiently clear, then the whole work is marked at the lower standard, which in this case would have been sterling silver.
Here is an expanded and rotated image of the marks on a ring of sterling silver and 9 carat red gold.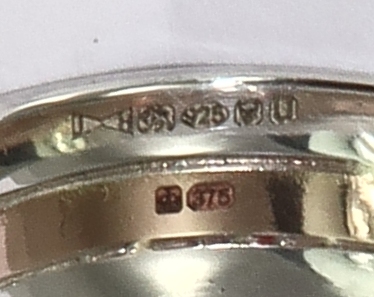 Because my work is assayed at London, it has the traditional silver and gold marks as well as the modern fineness mark applied as standard.  The marks were applied by laser.
Top ring
My sponsors mark, traditional sterling silver, fineness mark for sterling silver, London Assay Office and the 2019 date letter.
Middle ring
Traditional gold mark and modern 9 carat fineness mark.
Assay and marking does not distinguish the colour of the gold.