I've just completed  two 1:1 sessions showing how I cast using delft clay and cuttlefish.  This was spread over two sessions doing delft clay first, though with the benefit of hindsight, it would have been better to do cuttlefish first.  Prepaing a cuttlefish mould is easier which gives more time to introduce the actual melting and pouring part.
We followed the same format as the basic class  – I do a stage, the student does their stage and so on.
My delft clay castings are on the left and the student's on the right.  The bee is a little bigger than the ammonites.
This is a cuttlefish cast once finished and the amber stone mounted.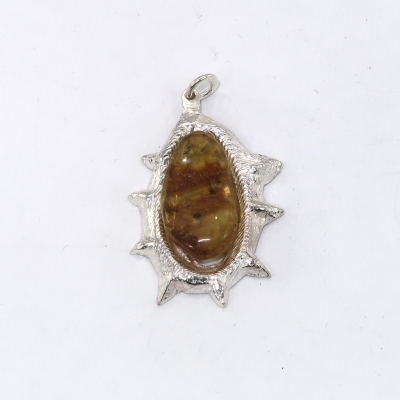 'I had the pleasure of 2 casting lessons with John, delft clay and cuttlefish. I had the best learning experience. Prior to lesson John advised me on equipment etc so I could set up at home.
Hands on, informative and very inspiring. In 4 hours Johns vast knowledge and experience had taught me enough to go home and recreate, which I have been,non stop!
Thank you'