St Brigid is one of the patron saints of Ireland.  I have just delivered a commission of a full sized (30 cm) St Brigid's cross in sterling silver.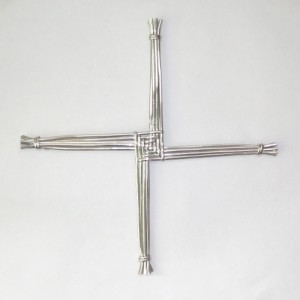 The cross is traditionally woven from reeds.  This one has been constructed by weaving in the same way, but using oval solid silver wire.  The cross  has loops for wall hanging on the rear horizontal arms.  It weighs about 450 grams – one imperial pound.
On arrival, my client said, 'it is stunning!  Thank you for accepting this commission'.
Since then I have made a couple of smaller versions.  They have been sold, but I can make others to commission.