Thanks to Nerissa Parker and Sam Buckley, I've developed the process of gold plating.  I also do Keum Boo which is fusing a thin gold layer onto fine silver, so Keum Boo is thicker and more robust than plating, but less flexible.
Here are a couple of examples.  The first is a pair of fused style earrings, before and after.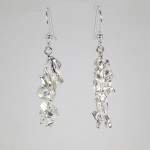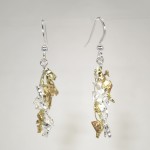 These are my standard ammonite pendant.  One is plated on one side, but with the ribs further polished so expose the silver again to enhance the contrast.