This page is now outdated.  Please click here for the up to date page.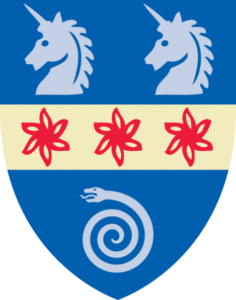 The Gaudy on 15 September 2018 was a major celebration for St Hilda's College, marking 125 years since its foundation.  One of my ammonite pendants was presented to the guest speaker – Katty Kay.
All of the work I showed is already on my web shop .
I'm happy to change chain styles and lengths and make bespoke pieces.  There are so many permutations of sizes and fittings that I can't stock everything!   All my silverwork is solid silver – no silver plate –  and everything is made by me by hand in my workshop in Radley except for the findings (chain, clips etc.).   Anything above the legal minimum has the full London traditional hallmarks and many pieces below have too.
Ammonites
For sale here.  Some examples
Brooches,  cufflinks,  earrings,  pendants, keyfobs, ornaments, charms – you name it – a range of ammonites from  130g to 2g.
Estoiles
Inspired by the St Hilda's crest.  For sale
These are a new range – I'm open to ideas for sizes and styles.
Uffington White Horse
I was keen to make the shape as accurate as I could – each one is individual hand cut.  The bookmark and tie clip are for sale, but the others are to order only.  Please contact me.
Available from stock or to commission in a range of sizes.
DNA themed jewellery
Other lengths/ sizes on request.  All available for sale.
It's not obvious from the pictures but the width of the pendant is the same as the large DNA earrings.  The DNA ball pendant was inspired by DNA histone proteins that DNA winds around.